Zumba Workout Summary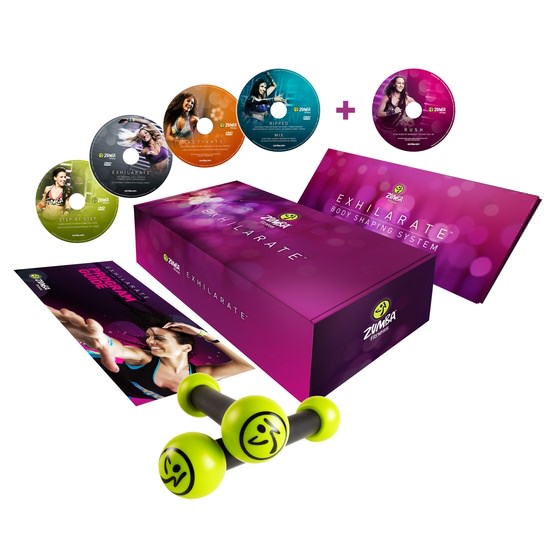 If you are looking for a fun workout that doesn't seem like exercise, then Zumba is the answer. Part dance party and part fitness program, Zumba features high energy Latin dance and music to get you moving and burning calories.
Zumba
is a very popular workout among women, and you've probably seen the infomercial for Zumba running on TV.
How Zumba Works
The program itself is DVD based and is designed to body shape you. This means toning, tightening and strengthening your body versus bulking up or working through extreme circuit training moves. Essentially you pop in the first DVD, turn the music up and follow the moves. Zumba is definitely more like high energy dancing than exercising. In fact, there are Zumba classes popping up at fitness centers all over the country. That's how popular Zumba has become.
Here's a really good overview of Zumba
and the moves!
What's Included In Zumba
The Exhilarate Body Shaping System 4 DVD set
Step by Step: this is the guide to learning the steps and Zumba routine
Activate: this is a 45 minute, introductory class to get you going and motivated
Ripped: Zumba Toning," the body sculpting workout using our exclusive maraca like Zumba Toning Sticks:
Mix: a rhythmic journey around the world
Exhilarate: the original full length fitness party experience.
Bonus 5th DVD: "Rush," a 20 minute workout to amp you up
Zumba Toning Sticks: these are 1lb weights essentially to enhance the toning
Exhilarate Program Guide featuring a 10 day weight loss plan and more.
Price: $59.95

Contents of the DVD Set
Total DVD Run Time 2:06:42
Exhilarate 5 (4+1) DVD Run Times Step-By-Step (Total Run Time 60:21) 
Step By Step 59:45
How to use this DVD 0:36
Activate (Total Run Time 47:33) 
Activate – 41:00 How to Use this video – 0:26
Tips and Techniques – 2:56
Get to know your instructors – 3:11
Exhilarate (Total Run Time 1:03:49) 
Exhilarate – 59:30
How to use this video – 0:26
How to find a Zumba Class – 2:16
Get to know your instructors – 1:37
Ripped/Mixed (Total Run Time 2:06:42) 
Ripped-Toning – 31:28
Get To know your instructors – 1:34
Zumba Mix – 54:27
Zumba Mix (w/ breakdowns) – 1:31:51
Breaking down the moves – 37:33
Meet Beto Perez – 1:49
Rush (Total Run Time 36:33) 
Rush – 23:09
How to use this video 0:26
Zumba Wear Ripping and Cutting – 9:56
Get to know your instructors – 1:49
Outtakes – 1:18
Read more about the Zumba Fitness Exhilarate Body Shaping System
Real Zumba User Reviews
A ScrapeAZon Error Occurred
AWS.InvalidAssociate: Your AKIAIC6OCHNFK36VZ3BA is not registered as an Amazon Associate. Please register as an associate at https://affiliate-program.amazon.com/assoc_credentials/home.